Manfrotto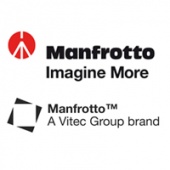 Vitec Group Italia
Via Valsugana, 100 Cassola Vicenza Veneto
Manfrotto
Manfrotto designs, manufactures and distri¬butes a wide range of dedicated solutions to professional and non-professional image takers.
Since 1972 Manfrotto has been offering innovative, light and ver¬satile equipment consisting primarily of professional camera supports, tripods, camera bags, lighting supports, LED lights and accessories. Manfrotto also supplies a range of tripods, bags, lighting and other photographic products to the consumer segment.

The headquarters is based in Nor¬thern Italy, Cassola (VI), while the manufac¬turing sites are in Feltre (BL) and UK. Manfrotto products are sold by the distri¬bution companies in China, France, Germany, Hong Kong, Italy, Japan, UK and USA, plus independent distributors in over 65 countries around the world.

The Vitec Group
Manfrotto is a leading brand of the Vi¬tecgroup Photographic Division that counts approximately 500 employees in Italy and 800 worldwide. The Division is part of an international Group, the Vitec Group, based in London, serving customers in the broadcast and photographic mar¬kets and providing exceptional equipment that can be trusted, everything that goes around the camera into the shoot, behind the scenes. Vitec is based on strong well- known premium brands.

Our purpose
We provide vital products and services that support the capture of exceptional images.

Our values

Product excellence
"Everything we make and do is exceptional"

Creative solutions
"We are constantly looking to break new ground"

Integrity
"What you see is what you get"

Customer focus
"We are nothing without our customers"

Collaboration
"We work better when we work together"

Il nostro impegno per la disabilità
Our people our key asset
We are fully aware that our employees are critical for the success of the business. They make the difference not only by what they do, but above all by how they do it. Their attitude and abilities, talent and commitment create a culture that naturally supports product excel¬lence, creative solutions and integrity. Nevertheless, these ones alone are not enough. In order to be successful, it is imperative that we also in¬crease our levels of customer focus and col¬laboration.
Taking into account our values, our aim is to guarantee a diverse workplace, since we are aware that a diverse collection of skills, knowledge, personality, background, helps us to widen and provide the right services to our customers worldwide. A diverse workplace, for our company, is inclusive of people with disabilities.
To strengthen our diversity initiatives, we have developed and communicated to all our employees and all our stakeholders our commitment to promote equal opportunities and professional development for all our resources, "irrespective of age, race, national origin, disability, religion, gender…." Moreover, we apply the same standards when selecting suppliers and other business partners.
We have active programmes to recruit people with disability and collaborate with universities and other organizations as to this.

Sede operativa :
Via Valsugana, 100 - Cassola - Vicenza - Veneto