d'Amico Shipping Group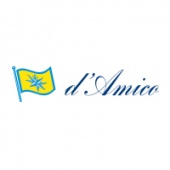 C.so d'Italia 35/B Roma Roma Lazio
d'Amico Shipping Group is a global leading operator in bulk carriers and product/chemical tankers markets.

The Group currently operates a fleet of about 75 vessels and employs a total staff of about 1,500.

The Group is headquartered in Rome, with offices in Monaco, London, Dublin, Luxembourg, Singapore, Stamford (USA), Vancouver (Canada) and Mumbai (India).

d'Amico's corporate culture is founded on three pillars:
 the modern technology of the fleet,
 the professional excellence of its people,

 the concrete commitment to social responsibility.

d'Amico Shipping Group is strongly dedicated to the development of its assets and resources, thus strengthening its competitive position in the shipping industry. A continuous effort is made to support the professional growth of its people and to finance a flexible, modern and eco-friendly fleet.

Sede operativa :
C.so d'Italia 35/B - Roma - Roma - Lazio